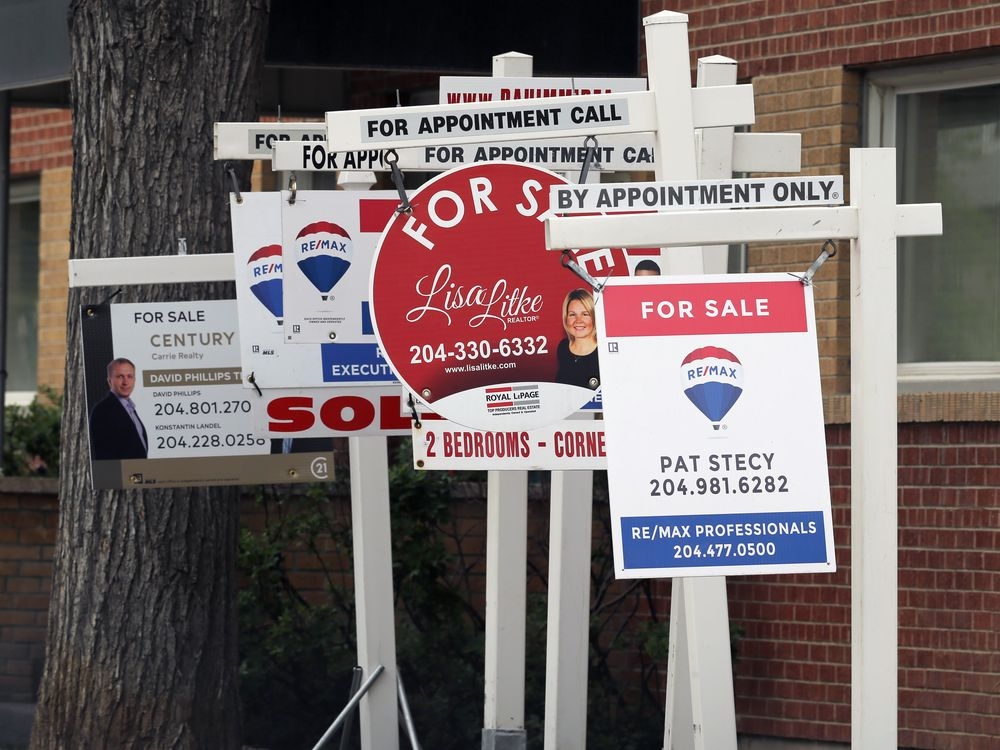 Article content
The recent interest rate hike from the Bank of Canada won't affect Manitoba's housing market too much, says the head of the provincial real estate association.
Article content
"Our market's very solid," said Manitoba Real Estate Association president Chris Dudeck. "I think this quarter percent increase probably won't have a big effect on the marketplace."
Article content
Earlier this week, the BoC raised interest rates to 4.75%, the highest it's been in 22 years. This was the first hike by the central bank since it paused rates in January.
"When the interest rates go up, it always pushes a small segment of the [buyer's] market out of the market because affordability becomes an issue," Dudeck said in a phone interview Thursday.
"But for the most part, it usually just pushes them down into a different price range. So that demand with an interest rate hike won't disappear. It'll just look in a different price range."
Article content
Dudeck said there's a greater demand for homes under the $500,000 range at the moment, which has been heightened due to interest rate hikes.
"The market is tilted more in terms of the seller in that price range," he said. "And that is just simply because there's more demand."
The MREA released numbers this week that showed there was a 12.4% decrease in sales last month compared to May 2022. Home sales were 8.5% below the five-year average and 5.8% below the 10-year average for the month of May.
Dudeck said that May 2021 and 2021 were record years for sales and the downturn in sales is largely related to the lack of inventory. The month of inventory in May, which is the amount of time it would take for all current MLS listings to sell if no new ones entered the market, was at 2.4. This number was up from the 1.5 months recorded at the end of May 2022. The long-run average is 2.8 months for this time of year.
Article content
New listings did not change much from last May, only up 0.1%. There were 2,784 new residential listings last month, which was 0.5% below the five-year average and 3.9% below the 10-year average.
Active residential listings jumped 37.6% to 3,978 in May compared to last year, but active listings were still 4.7% below the five-year average and 16.5% below the 10-year average.
"Listings on the market, while they're up over the last couple of years, are still below normal levels," Dudeck said. "More sales would happen if there was more inventory on the market to actually sell."
As of the end of May, home sales totalled 5,342 units over the first five months of 2023, which was a 19.9% decline from the first five months of 2022.
Article content
The market remains a seller's one, however, so anyone looking to list should feel confident in their home selling for a good price and in a reasonable amount of time, Dudeck said.
Heading into the summer, particularly hot ones, the housing market actually cools down slightly.
"It doesn't disappear, but it gets quieter just because people start to enjoy the summer and put their housing goals on pause for a little bit," he said.
Manitoba's market is in line with the rest of the country, Dudeck said, but still remains affordable, all things considered. The average price of a home sold in May 2023 was $358,391, which was an 8.2% decrease from last year.
"There's just not enough homes for the demand in the marketplace," he said.
"Even with prices ticking up a little bit and interest rates increasing our market should still remain solid."
Twitter: @steltsy94
To sign up for Ryan's weekly newsletter GIMME STELTER, click here.