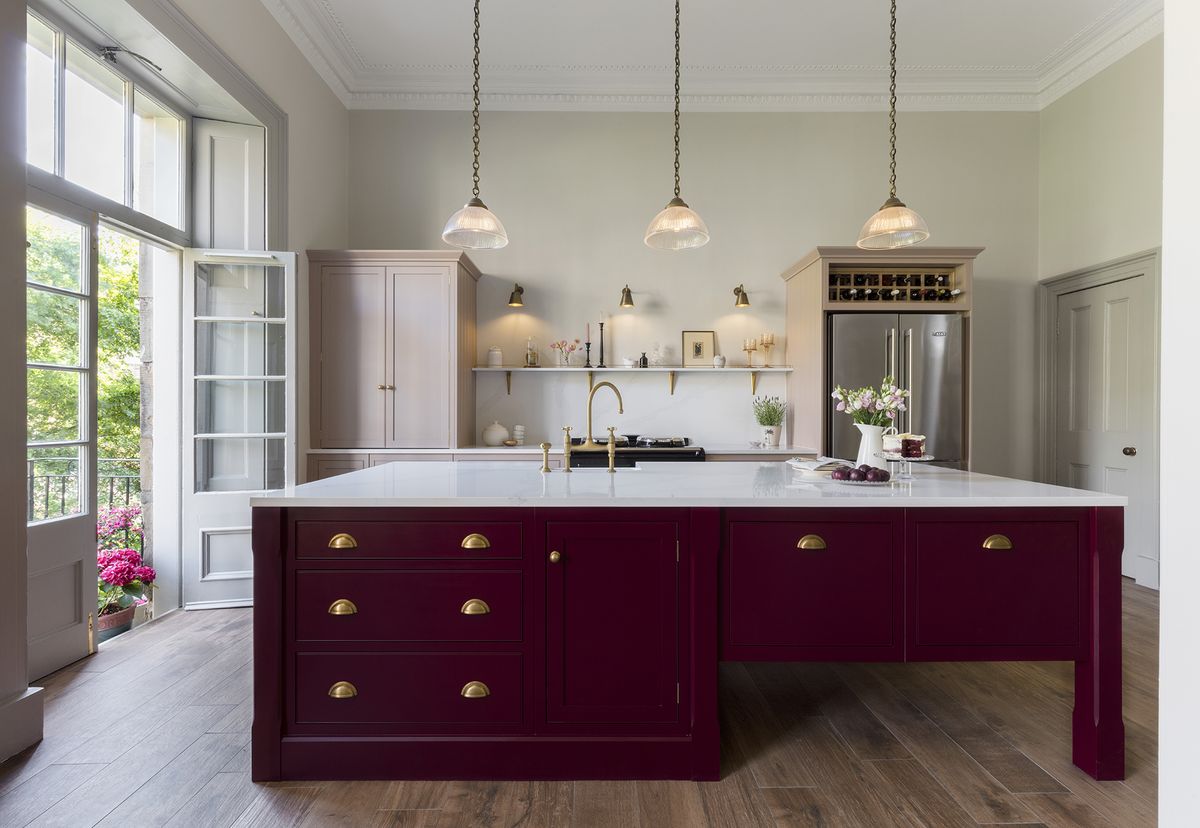 In remodeling, you might well ask if it's better to have doors or drawers in a kitchen? Creating a stylish and efficient room demands great storage and while both cabinets with doors and drawers can provide it, it's a question of choosing the right options for the room.
While cabinets with doors used to be in the majority within a kitchen design, today's rooms tend to include more drawer storage. And although drawers used to be sized to accommodate items such as dish towels and cutlery, the latest kitchens often also feature sizeable drawers fitting items such as saucepans, plates, and casseroles.
Here, we look at whether it's better to have doors or drawers in a kitchen to get the most from your room.
Is it better to have doors or drawers in a kitchen?
'Ergonomics in the kitchen is often overlooked when concentrating on the exterior look of the new space,' says Amanda Hughes, expert in ergonomics, Blum UK (opens in new tab). 'But with kitchens lasting on average 20 years, thought should be given to accessibility as well as the general aesthetics.'
These are the factors kitchen design experts say you should take into account when deciding if it is better to have doors or drawers in a kitchen.
1. Drawers can provide long term accessibility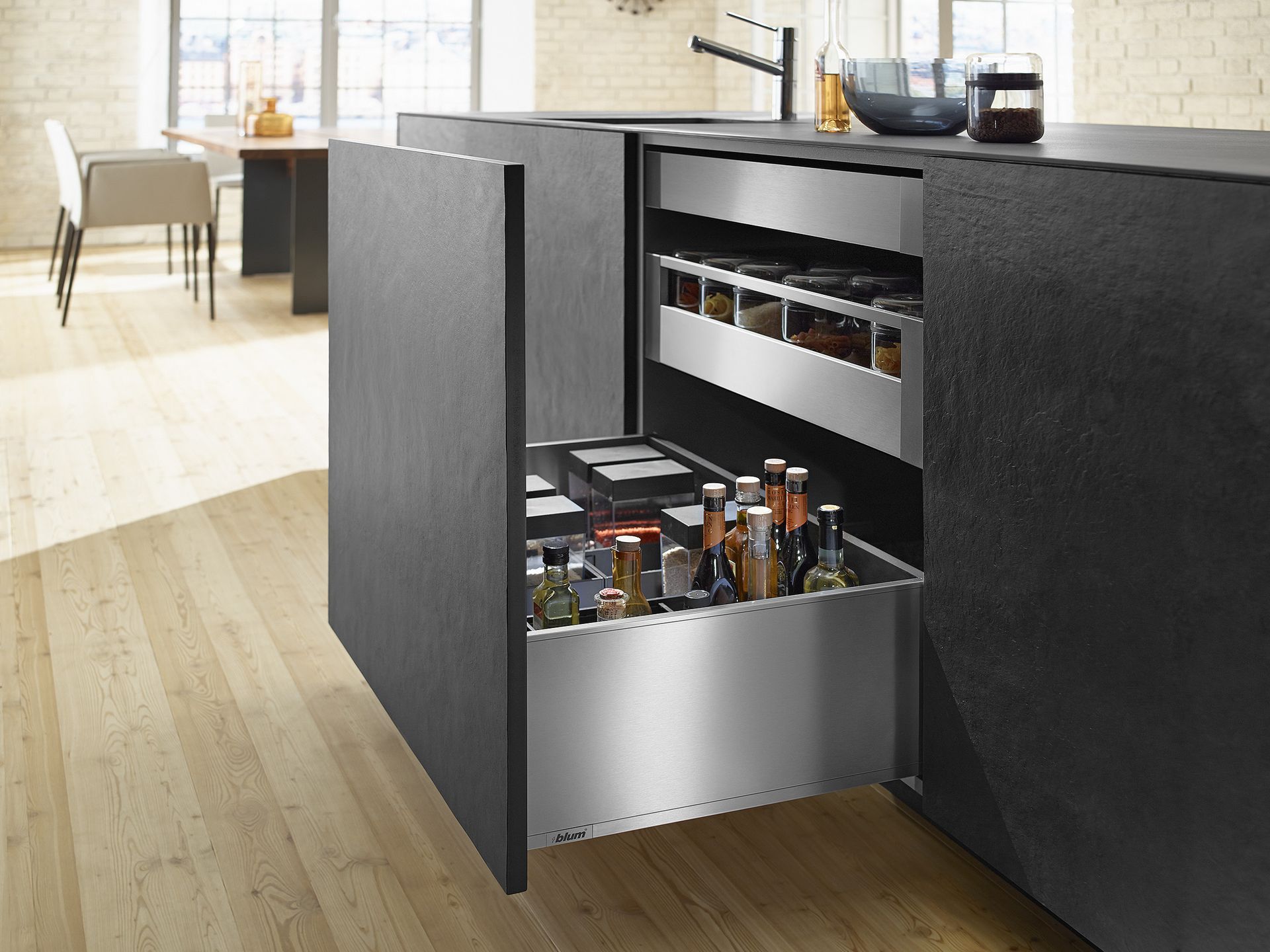 Drawers can prove a great choice for a home in which you plan to live for many years whatever your current age, as Amanda Hughes explains.
'At Blum we continue the extensive research which has been ongoing for many years on the implications of ageing for kitchen users, using our "Age Explorer" suite from the Meyer-Hentschel Institute. 
'The results clearly show that drawers have enormous benefit over doors and fixed shelves. With a full extension pull-out drawer, all contents are instantly visible, and easy to retrieve. No bending down, kneeling or removing the front items to find something from the back.
'If you did want the traditional look of a door, this can be achieved with a tall pull-out, and internal drawers,' she adds.
2. Drawers are versatile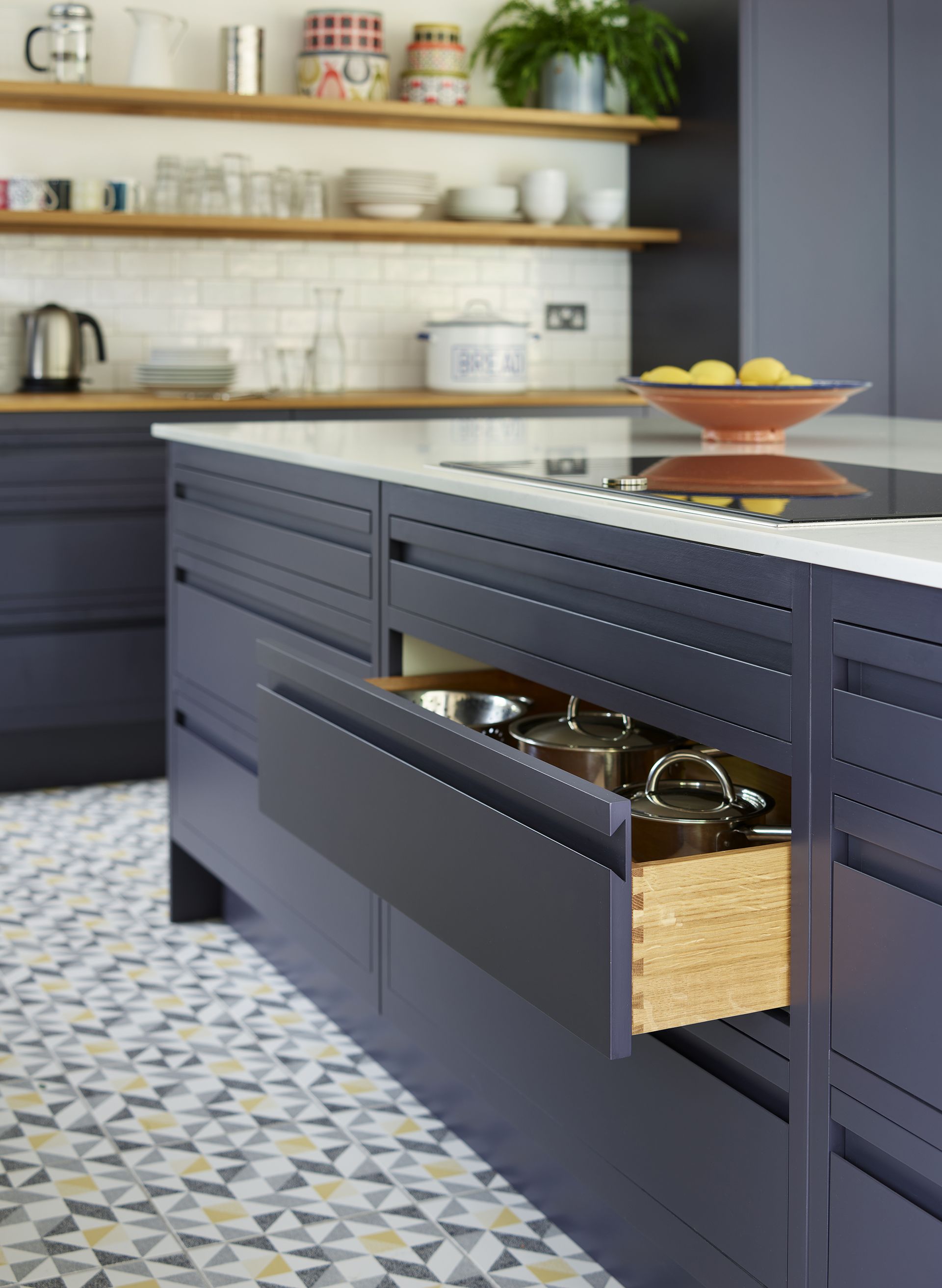 Drawers can trump doors when it comes to providing flexible storage in a kitchen. 'Drawers are more versatile as they can hold a lot of storage, especially organized storage, depending on how deep, shallow or big they are,' says William Durrant, owner of Herringbone Kitchens (opens in new tab). 
They can be home to a variety of kitchen essentials. 'Items such as cooking appliances, frying pans, utensils and crockery are great for keeping in drawers,' says Alex Main, Director of The Main Company (opens in new tab).
3. Drawers offer great access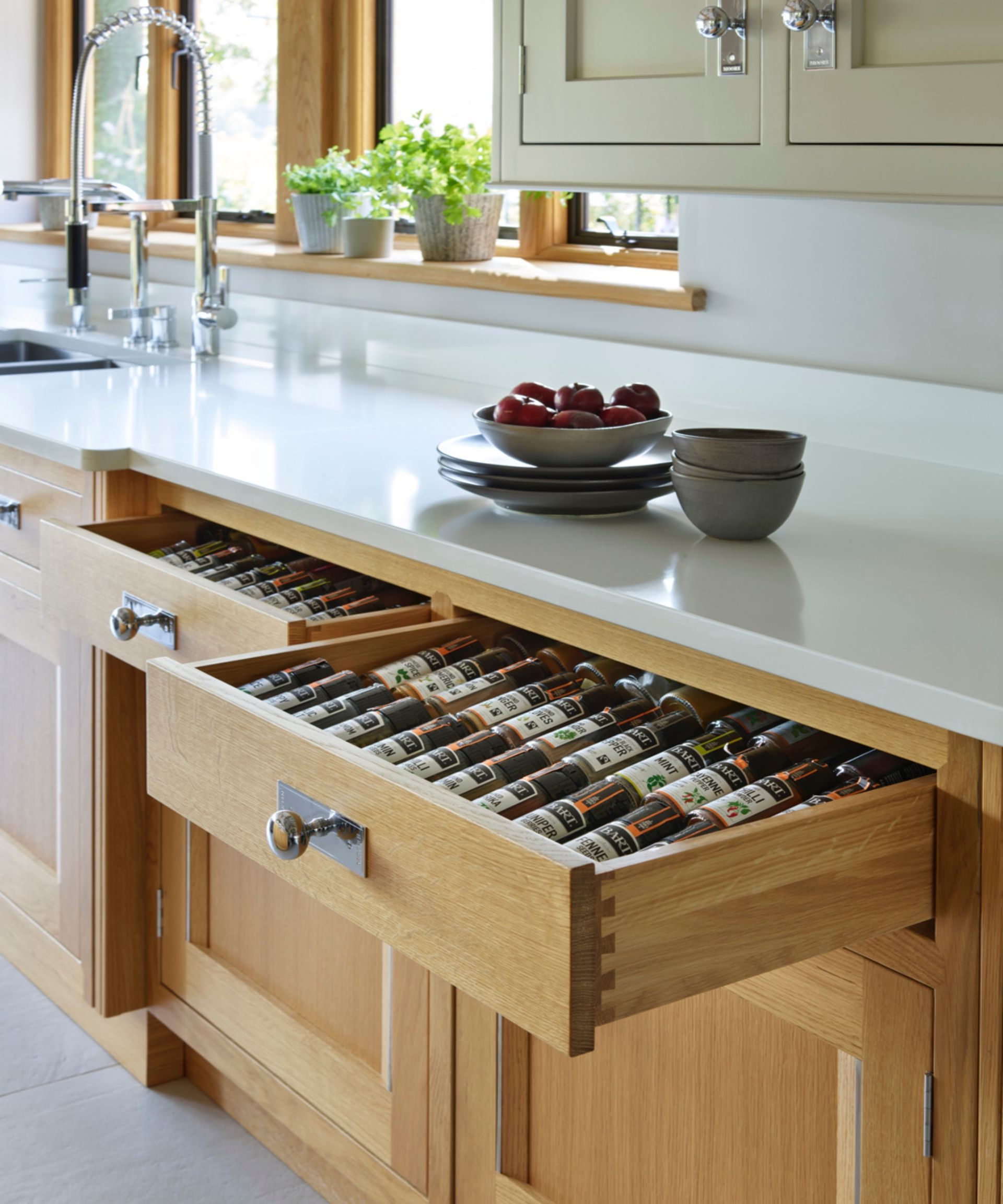 For base cabinets and kitchen islands, drawers make access super easy. 'You can pull out and see what's in a drawer and put things back without having to bend right down to see the back of the cabinet,' says Looeeze Grossman, the founder and CEO of The Used Kitchen Company (opens in new tab).
4. Drawers are easy to divide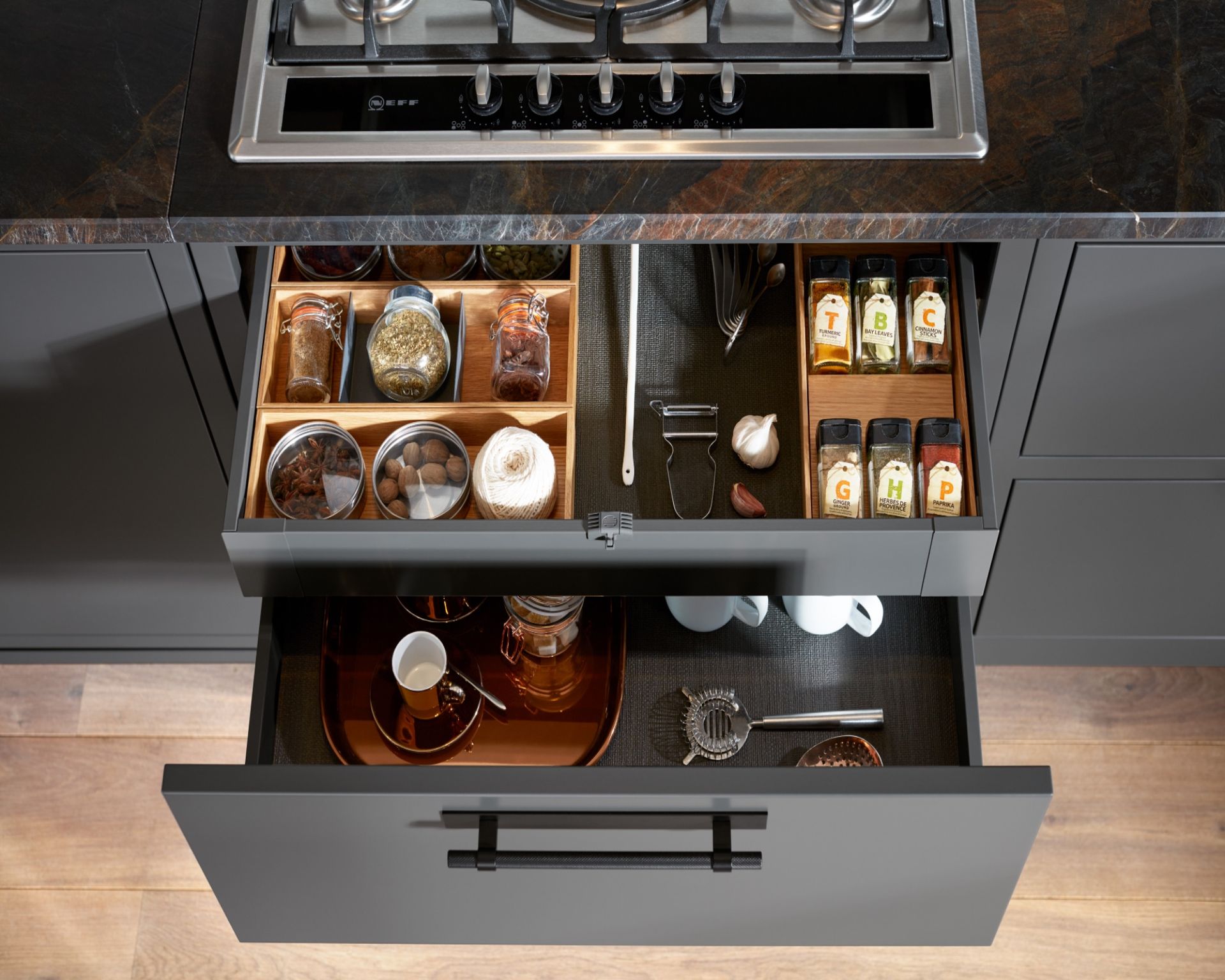 Drawers can be preferable because they're easy to divide up, depending on what you want to store within each. 
'As a designer it's important to me that all the functional elements of the kitchen work seamlessly,' says Julie Otulakowski of Art House Creative Interiors (opens in new tab). 'Therefore I would always allocate drawers to the functional areas of the kitchen. 
'Practically, drawers are top access and easy to see into and easier to use. They also allow for perfect arrangement of the interior with functional dividers and organisational solutions.'
6. Doors maximize storage space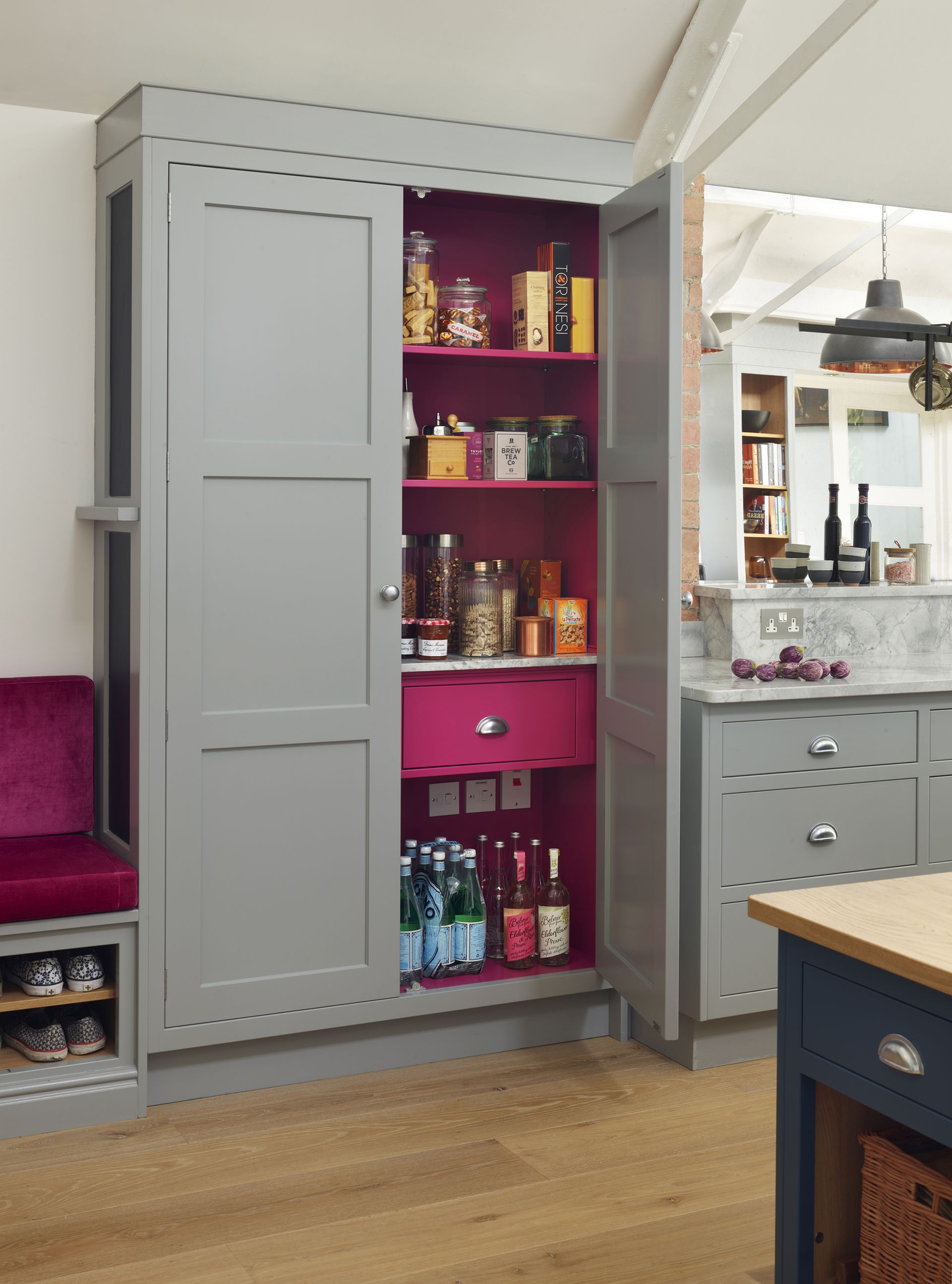 If optimizing space is a must, doors can be the better choice for a kitchen.
'Cabinets enable you to maximize storage, in contrast to drawer systems that do take up some space,' says Scott Peterson, co-director of HKUK (opens in new tab). 'So, with the clever use of adjustable shelves, you will always be able to store more in a cabinet than a set of drawers of the same size.'
They might also be a better home to some of the items kept in a kitchen. 'Cabinets have their own advantages, particularly when storing taller items like vases and jugs which may not fit in a drawer and I choose to put my more delicate items in the cabinets, too, as feel they are safer there,' says Looeeze Grossman.
7. Doors can allow a budget to go further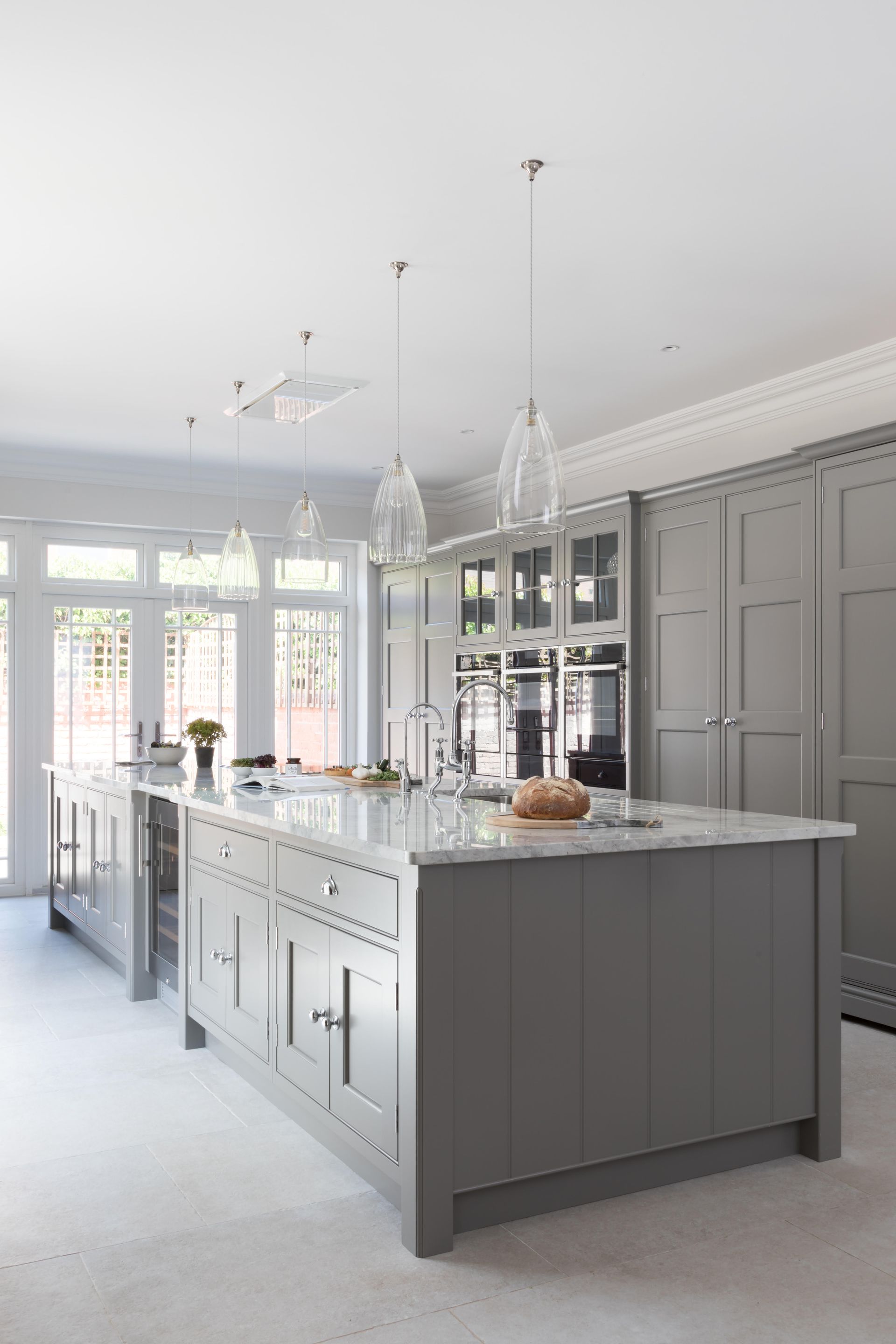 Bear in mind that choosing doors can stretch a kitchen remodeling budget further.
'With bespoke designs, drawers are more expensive as the face frame and detail required is more complicated than it is for a base cabinet so, if you are working to a budget, opt for fewer drawers in your design,' says Tom Edmonds, design director at Lewis Alderson (opens in new tab).
7. Doors could prove better for crockery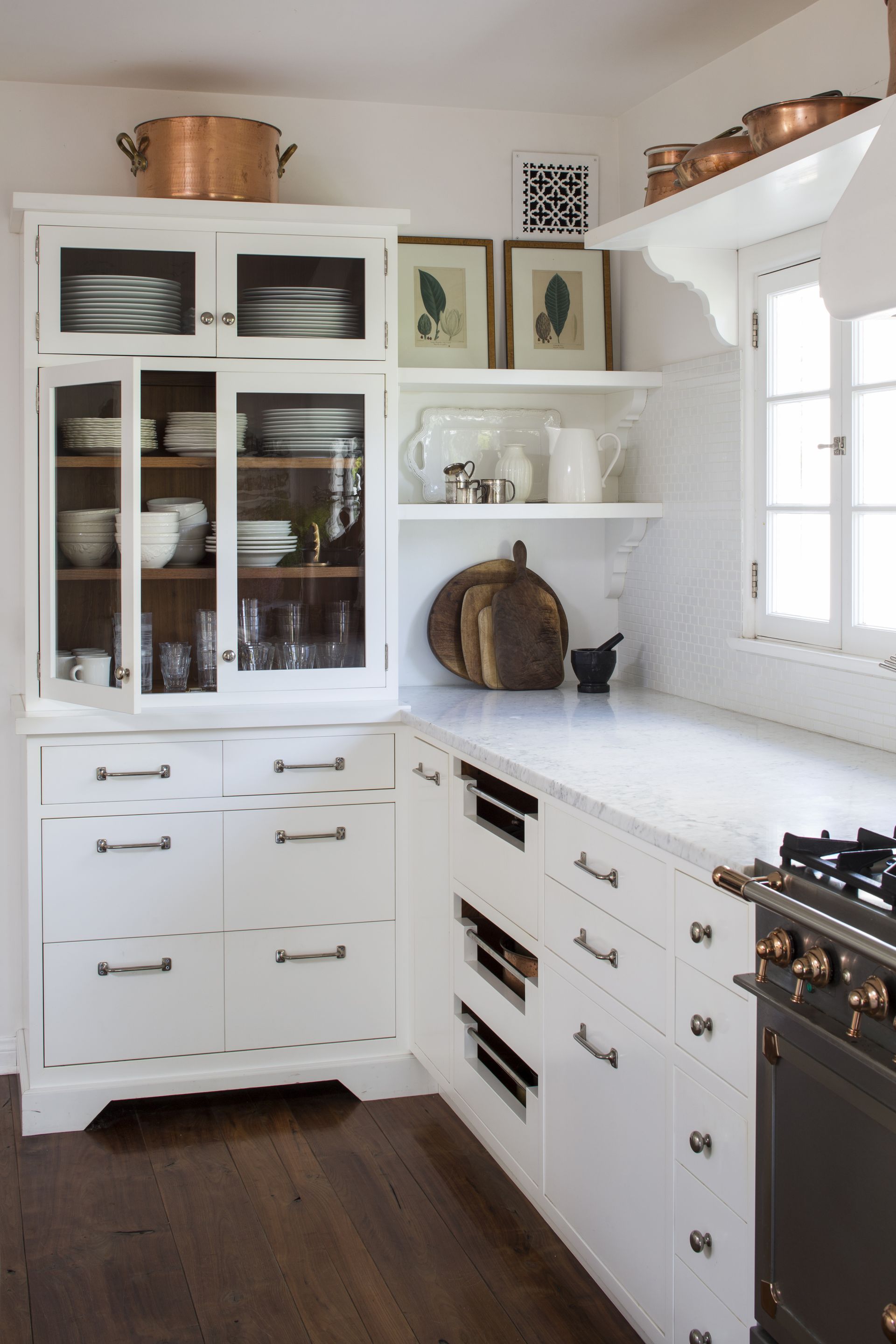 It's worth thinking about what happens when you store crockery in deciding if it's better to have doors or drawers in a kitchen. 
'The present fashion is for lots of drawers to store crockery in and, though this is ergonomically popular, plates can be heavy and over a period of time may take a toll on the runners and working order of the drawer,' says Tom Edmonds. 'Cabinets have more storage and are a better option for stacking crockery than a drawer.'
8. Doors allow access to small appliances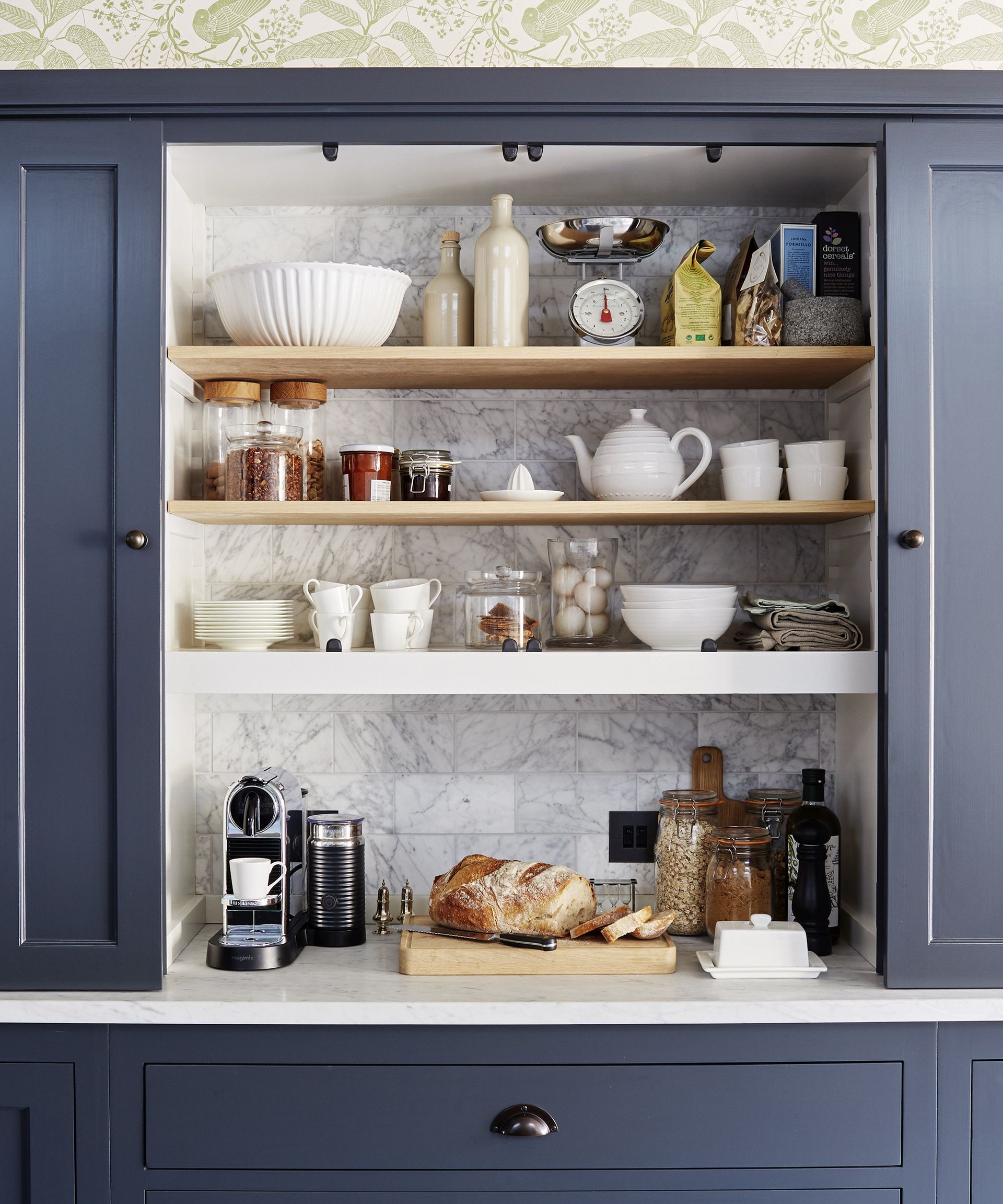 Doors can be the top choice for storing small appliances. 'Countertop cabinets with space-saving bifolding doors sit on the surface rather than on the wall,' says Claire Birkbeck, kitchen designer at Neptune (opens in new tab). 'They allow you to keep appliances on your countertop, plugged in and ready to use, but hidden behind the doors for a clutter-free look.'
9. Doors can make a small kitchen look bigger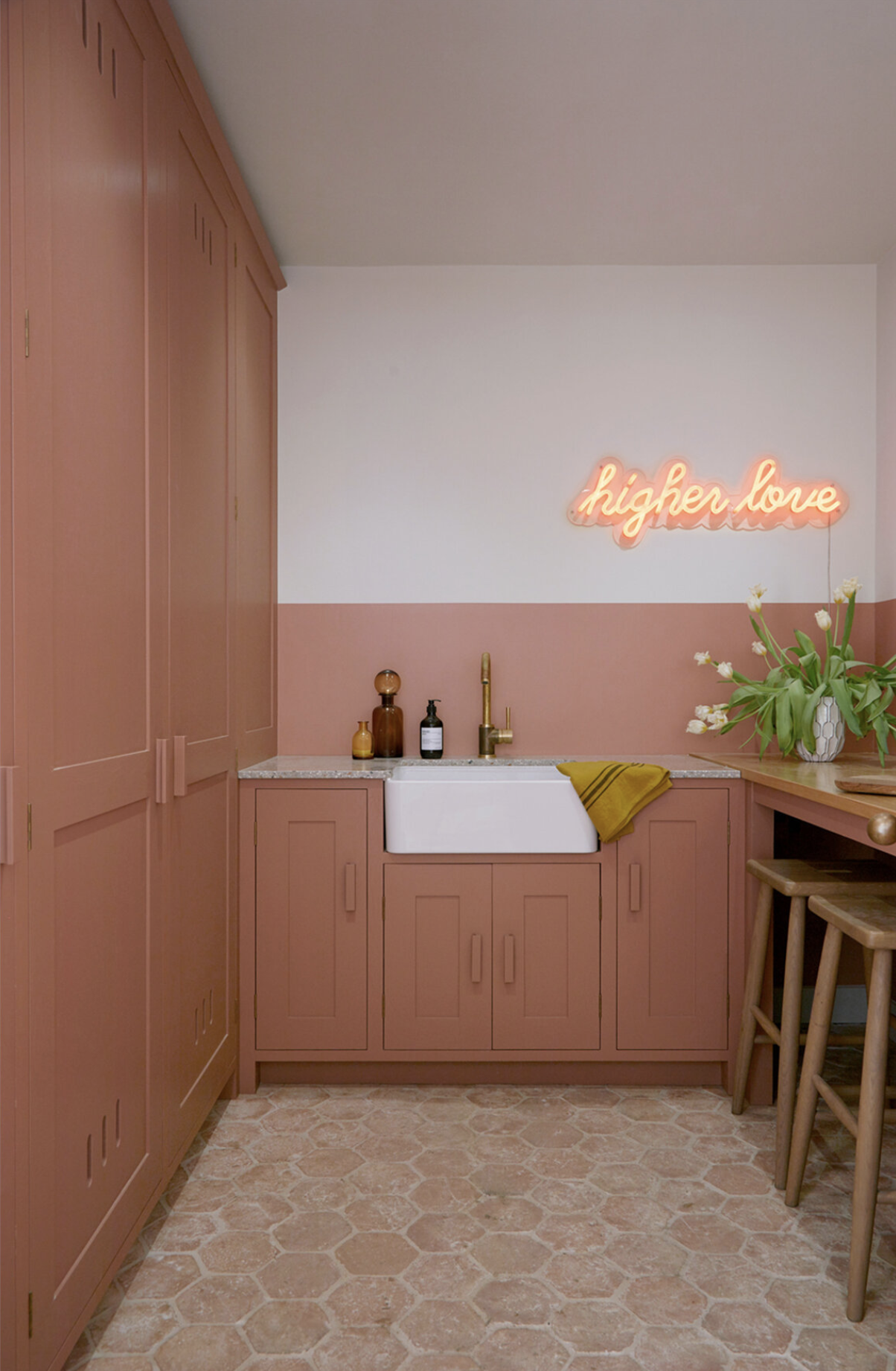 If your kitchen is small, doors could be preferable because of the effect drawers can create. 
'In the case of a small kitchen over use of multiple drawers has the tendency to reduce the appearance of the vertical line making the kitchen look smaller,' explains Tim Spann of Keller Kitchens (opens in new tab). 
His recommendation for compact rooms? 'Sleek slab doors will create a better aesthetic here.'
10. Avoid the either/or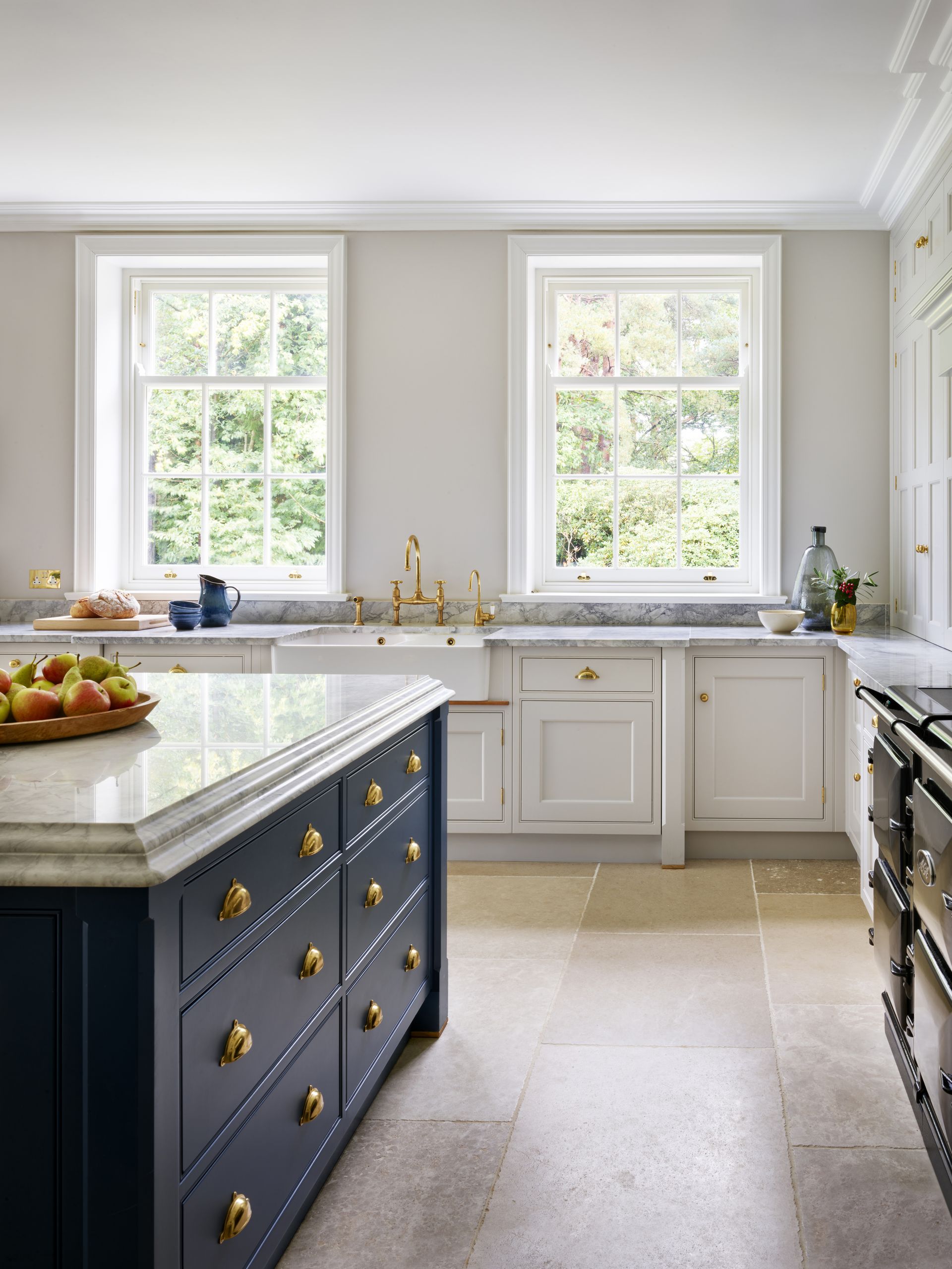 Both doors and drawers have advantages, so experts typically recommend a combination rather than either/or in a kitchen design.
'Both have their merits, and commonly, a combination of doors and drawers will offer the best functionality,' says Claire Birkbeck.
Opting for both can also be the most aesthetically pleasing choice. 'A combination of both drawers and doors for your cabinets such as floor to ceiling units and lower runs of cabinets are being designed with clever storage in mind and make for a wonderful looking space,' says William Durrant.
Are kitchen drawers more expensive than cabinets?
Kitchen drawers are typically more expensive than cabinets. Whether your kitchen design is bespoke or not, the inclusion of drawers is likely to increase the overall cost of remodeling the room. 
'Cabinet doors and shelves are usually cheaper than drawers and pull-outs,' explains Chris Dance, head designer and director at InHouse Inspired Room Design (opens in new tab). 'If price is the principal deciding factor, cabinets are a popular option to save money. 
'However, it is always worth spending a little more on corner cabinets that avoid creating dead space. Corner cabinets are ideal for storing bulkier items like pots, pans and mixers, while storage solutions such as pull-out shelves make it easy to reach them without straining.'
What is better drawer or cabinet?
Kitchen designers advise that it is better to have drawers and cabinets in a kitchen. 
'Doors and drawers have their individual advantages – they're designed to store different items,' says Chris Dance. 'I would always recommend having a combination of both to maximize storage space, and investing in ergonomic solutions that cater for your own storage needs.'