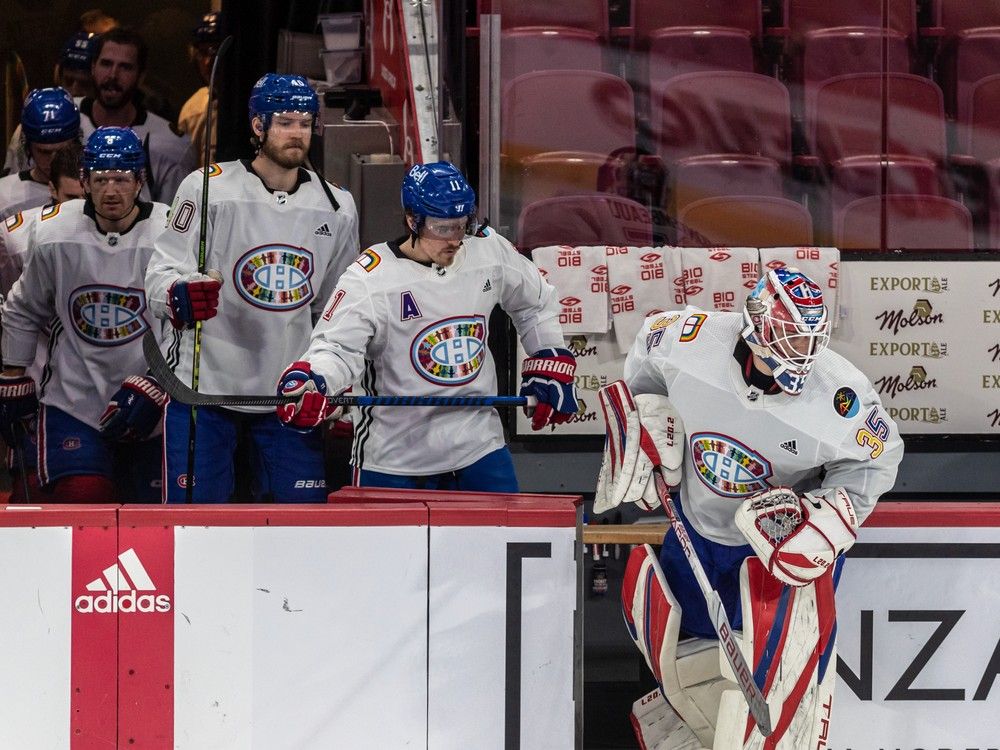 There are more than 1,000 players who have played in an NHL game this season and it would be impossible to believe none of them are gay.
Article content
Would an openly gay player be accepted today in an NHL locker room?
Article content
"I think so," veteran Canadiens defenceman Joel Edmundson said after Thursday's morning skate at the Bell Centre. "Especially in this dressing room, absolutely. They'd be accepted by the group of guys and this organization with open arms."
Article content
There are more than 1,000 players who have played in an NHL game this season and it would be impossible to believe none of them are gay. It's also hard to believe it would be easy for one of them to be open about it in the current NHL environment.
The Canadiens are holding their Pride Night Thursday at the Bell Centre as part of the NHL's Hockey is for Everyone campaign. This is the seventh year the Canadiens have held a Pride Night with players wearing colourful Pride sweaters during the pregame warmup as a sign of support for the LBGTQ+ community. Only one player — Denis Gurianov — refused to wear the Pride sweater, with head coach Martin St. Louis saying the Russian made the decision for family reasons.
Article content
Other players in the NHL — including Russians Ivan Provorov of the Philadelphia Flyers, Ilya Lyubushkin of the Buffalo Sabres and Andrei Kuzmenko, along with Canadians James Reimer of the San Jose Sharks and Eric and Marc Staal of the Florida Panthers — have refused to wear Pride sweaters this season. The New York Rangers, Minnesota Wild, Colorado Avalanche, New York Islanders, Tampa Bay Lightning and St. Louis Blues all abandoned plans for their players to wear Pride sweaters.
So, again, would an openly gay player be accepted today in an NHL locker room?
"I think so," Canadiens captain Nick Suzuki said. "There's been players that have come out (in other leagues) in the last couple of years. There's many more players that support (Pride Night) than guys sitting out for whatever reasons. The Russian situation is a lot different. It's not that they don't support it … there's lots of stuff going on over there that we don't understand completely because we're not from there and don't know what the pressure's like over there."
While anti-gay laws were amended in Russia in December, making it "illegal to spread 'propaganda' about 'nontraditional sexual relations' in all media, including social, advertising and movies," the NHL said it does not have evidence of a "material threat" against any Russian player over Pride Night participation.
"I feel like some day there's going to be a (gay) player that comes out and I feel that could open the door for other guys," Edmundson said. "It's a safe spot in here. Everyone's welcome. It doesn't matter where you come from or who you are, we'll welcome you with open arms, for sure."
Article content
When asked if he's surprised that in 2023 there are still players and teams who won't wear Pride sweaters — not even for 15 minutes in a pregame warmup — Edmundson said: "Am I surprised? No. But it's nice that it's starting to lean the other way where the majority of us are accepting of any cause and whoever you are. I feel like there's always going to be a percentage that doesn't agree."
While Gurianov won't take part in the pregame warmup, he will be in the lineup against the Washington Capitals.
Veteran forward Brendan Gallagher was asked if he was disappointed every player on the Canadiens wasn't willing to wear a Pride sweater.
"I really don't think disappointing is the right word," he said. "I think two things can be true at once. I think we can support the organization and the league's decision to hold these nights to promote inclusivity and respect, and we can also respect our teammate's decision where back home in Russia they have propaganda laws and he's making the decision to protect his family.
Article content
"Regardless of how you feel about that, I think family is important to everyone and I think you have to respect both. Like I said, two things can be true at once, and I think it's kind of important to focus on the positives, which is what the night's supposed to be all about."
Gallagher was also asked whether an NHL locker room would be more welcoming today for an openly gay player than it was 11 years ago when he joined the league.
"It's really hard to say because no one's really gone through that," he said. "But my entire time playing hockey growing up and being a Montreal Canadien this locker room has judged people on hard work, whether you're accountable to your teammate, whether you respect everyone, and it had nothing to do with sexual preference or race or any of that stuff. It's been judged on character, and I think that's what this locker room has always been about, and that's one of the things I've loved about being a Montreal Canadien is the amount of teammates that I've got to play with that I've respected that I know have had my back and I've had every one of theirs.
"We talk about a family culture and no matter what anyone is going through at any time we've always supported each other in here."
Stu Cowan: Canadiens' Denis Gurianov puts a damper on Pride Night

Stu Cowan: Injury-riddled Canadiens are limping toward the finish line