It moves ever so slightly as it spies something in the water before suddenly rising into the air, its feet brushing against the cool of the lake. This grey heron with its glossy coat and elegant neck took up residence at the Bluestone National Park Resort several years ago, and alongside Sid the swan and other wildlife, it has become a regular feature of our daily walks across the site.
We are at the resort in the Pembrokeshire Coast national park for a good dollop of organised fun, and to check out how they are trying to tackle the issue of being more environmentally-friendly.
Holiday resorts aren't regular contenders for sustainability awards. They are usually seen as waste-generating behemoths with thousands of families trampling through their grounds every year, creating mountains of plastic waste and devouring resources with little thought of the consequences.
But here we find a former dairy farm trying to transform itself into a nature-based resort with a remit which includes carbon reduction, maximising biodiversity, moving towards a circular economy and reaching a target of net zero within the next decade. All the right buzzwords – but is it working in practice?
Since opening in 2008, 60 acres of woodland have been planted, along with the creation of two new lakes as part of a rewilding project which is returning dozens of acres of pasture to natural grassland. Spearheading the resort's move towards becoming greener is Marten Lewis; no, not the moneysaving expert but a former charity worker who alongside climate activists, public sector workers, influencers and the actor Michael Sheen has been heralded a "changemaker" by the outgoing future generations commissioner for Wales, Sophie Howe. Lewis is one of the 100 people Howe has named as making a positive impact in Wales and changing the country's future.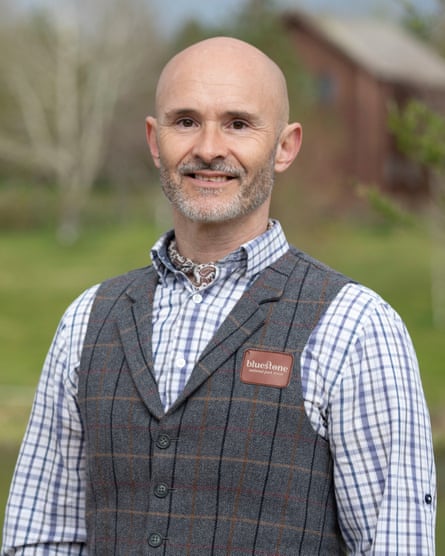 Dressed in a tartan waistcoat and checked shirt, Marten looks every bit the farmer but his actual job title at Bluestone is director of sustainability. He tells me that one of the first things he did was create a 20-acre nature reserve and a four-acre wildflower meadow, as well as developing bird and bat box projects with local schools and a hedgehog release site for the local "Hogspital".
But his most pioneering project to date – one considered a unique initiative for a commercial company – is the network of paths to all 80 of the resort's new platinum lodges being laid with asphalt mixed with fibres from the equivalent of 60,000 recycled disposable nappies.
Every year, around 140 million disposable nappies are binned in Wales. NappiCycle, a Welsh firm that pioneered the technology, receives about 90 tonnes of nappies and absorbent hygiene products from Bluestone.
Some of that finds its way back to the 500-acre resort in the form of insulation and noticeboards, but the path project is the first time Bluestone – or indeed any resort – will utilise the recovered materials in a walkway surface.
"Using nappies to build roads and pavements isn't as crazy as it sounds. Disposable nappies are a single-use plastic and, if landfilled, can take hundreds of years to degrade, so recovering and finding a new application for them has a range of environmental benefits," says Lewis.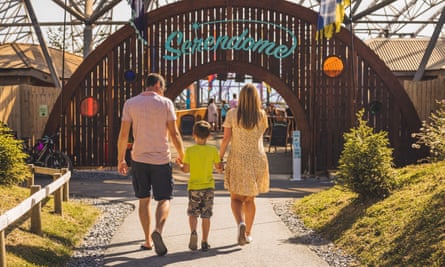 "Recovering usable fibres from nappies and mixing them with aggregates to produce asphalt not only reduces waste disposal but cuts overall carbon emissions, makes for a more durable surface and creates sustainable jobs. And, no, there is no smell!," he adds.
There are other smaller initiatives across the site including the use of electric four seater-buggies to transport guests (book in advance); a bus service for staff commutes to cut down on individual car journeys, a food recycling scheme, and the Blue Lagoon Water Park is believed to be the first facility of its kind heated with locally sourced biomass rather than oil, saving about 1,300 tonnes of CO² a year.
"It is so important for us to impress on our guests that they are here to have a good time, but within that we can take steps to preserve the environment for future generations," adds Marten.
And there are a lot of good times to be had. In our relatively short stay we tried to pack in as much as possible, rotating the different agendas of our kids and the age limits. Our top tip would be to check the website, choose your favourite activities and book as early as you can before your holiday because slots get taken quickly, even with the huge range on offer.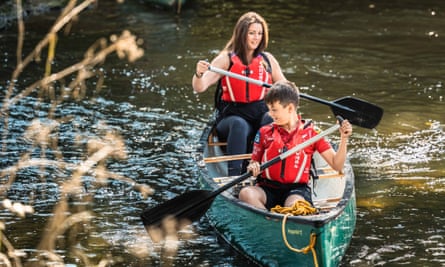 We rarely stopped – it's hard to justify a lie-in or a third cup of tea when the only nagging is for good, wholesome fun like the water rapids in the swimming pool (check height restrictions on the slides); hair braiding and playground action in the impressive Serendome.
There were a couple of days of brief lunches before early afternoon kayaking on the lake, or a nature art activity for the children. My son and husband tried to conquer their fear of heights on the Sky Wires (8+) whizzing through the woodland, then returning to solid ground for a competitive but fun family game at the Glowzone Bowling.
The Hive indoor play area was the most popular attraction with both our kids, with inflatables, a football pitch, climbing towers and huge slides, plus the indoor zip wire "Adrenaline" (extra cost). Adults have access to a cafe and bar which was very popular for breakfast and lunch.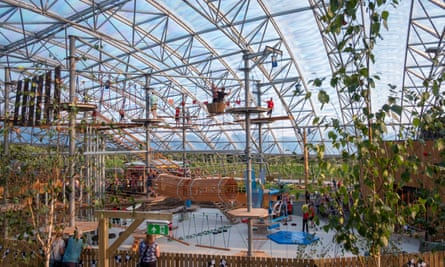 There was also the incredibly acrobatic Treasure Islands show and then the Smokey Joe's Shindig to cap it all off. Despite three-quarters of our family being natural introverts, this meaty, sing-a-long evening of group entertainment in an outdoor restaurant proved a very popular way to stay up late together on the last night of our break.
Take a coat and a healthy appetite, and some decent shoes to stomp on the benches and earn your barbecue supper, and enjoy the local beer and Welsh cider to loosen those vocal cords and, most of all, your inhibitions.
Lodges sleeping a family of four from £864 including some activities and access to the water park, Serendome, The Hive indoor play area. (Prices may vary) The trip was provided by the Bluestone National Park Resort.