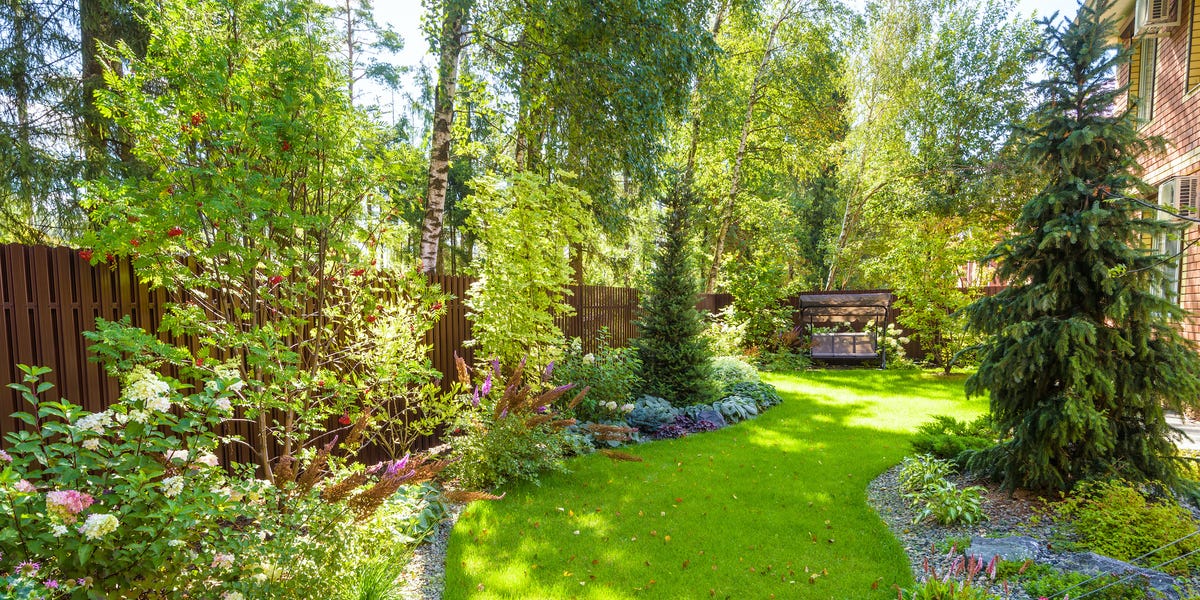 Viacheslav LopatinGetty Images
From wafting barbecue smoke to dog behaviour, there are a number of garden etiquette rules you should abide by if you want to be a good neighbour and avoid any disputes.
'Spring sees much of the UK carry out garden chores and spend a lot of time in their outdoor spaces,' gardening expert Harry Bodell at Price Your Job, says. 'But spending so much time outside can potentially spark conflict with neighbours.'
Take a look at the rules to follow below…
1. Do not mow your lawn at inconvenient times
Keep the peace in your neighbourhood by cutting the grass during the middle of the day. As a general rule of thumb, the best time to cut the grass is between 2pm and 4pm during the week, and after 9am on the weekend to avoid causing upset. If you aren't able to use the lawnmower during the day, try to do it before 7pm in the evening — earlier if there are children sleeping.
2. Position your BBQ correctly
Before you fire up for barbecue season, position your grill in a safe place to avoid any thick smoke blowing into next door's garden (it's worth checking whether they have the washing out, too).
'Before you begin a BBQ, observe the direction of the wind, and position the BBQ accordingly. If your neighbour is drying their washing in the garden, be sure to alert them of your BBQ so that they may move it,' explains Harry.
3. Place any trampolines away from shared neighbouring lines
Poorly positioned trampolines could frustrate your neighbours. In fact, last month one woman said her neighbours' trampoline was severely impacting her wellbeing and making life miserable because it overlooked her garden. If you're the courteous type and enjoy getting along with your neighbours, make every effort to place your trampoline away from their fence.
Harry adds: 'To avoid neighbour disputes, place the trampoline away from any shared neighbouring lines. Ensure that when standing or jumping on the trampoline, you do not have a view into other gardens. Be aware that if a neighbour can prove that the trampoline is an invasion of privacy, then it can become a legal matter.'
4. Do not leave your dog unattended in the garden
Leaving a dog alone in the garden can lead to unwanted behaviours and excessive barking. According to Price Your Job, persistent barking is considered as an offence, potentially leading to a council complaint and a Noise Abatement Notice. If you're a pet parent, do not leave your dog unattended outside.
'If your neighbour's dog is constantly barking, the first point of action should always be trying to talk to them. If this doesn't work, keep a diary of timings, and report the noise to the local council who can act,' adds Harry.
5. Be careful when painting your fence
If you want to change something about a fence that legally belongs to your neighbour, you should ask their permission first – even if you're only painting, varnishing or staining it. Your DIY skills might be pretty impressive, but paint could splash onto the other side.
'Trailing plants can only be added with the permission of the owner as they may cause damage. You can find out who owns the fence by observing which side the boundary of the fence is placed. The fence will be on the side of the owners.'
6. Use your hot tub at appropriate times
Hot tubs help ease away tensions of the day, but they can also be loud once switched on. If you want to keep a good relationship with your neighbours, check in with them when using it later in the evening.
Harry continues: 'The noise level of a hot tub can vary between 41- 67 decibels. This is rather loud and can serve as a nuisance to neighbours. Adhere to the same rules as mowing the lawn when it comes to using your hot tub. If you plan to use it out of these hours, notify your neighbours to avoid confrontation.'
Follow House Beautiful on Instagram.
---
This content is created and maintained by a third party, and imported onto this page to help users provide their email addresses. You may be able to find more information about this and similar content at piano.io